WeberŪ Apron - Black - Adjustable Strap

Product Code: 6474

Unfortunately this product is currently unavailable to purchase - we are not sure when we'll have it back in stock.
Sponsored Links
Product Information
The Weber Black Apron is the ideal companion for all barbecuing and grill situations giving protection from food spills and flare backs along with protecting from sparks when loading or raking coals on charcoal brbecues.

With a deep pocket for utensils and other bits and pieces finished off with the distinctive Weber Kettle logo to shoe that you mean business!
Technical Specification


Black apron with red kettle embroidery
100% cotton
Adjustable neckband for a customised fit
Deep front pocket for holding barbecue tools
Front towel loop
One size fits most
Machine wash
Dimensions -
H 0.25cm x W 118.11cm x D 151.64cm

Dimensions

BBQ Dimensions
Height (cm) -
Width (cm) -
Depth (cm) -
Weight (kg) - 0.5

Box Dimensions
Height (cm) - 26.7
Width (cm) - 3.2
Length (cm) - 16.5

Cooking Area
Width (cm) -
Depth (cm) -
Reviews of the WeberŪ Apron - Black - Adjustable Strap
Additional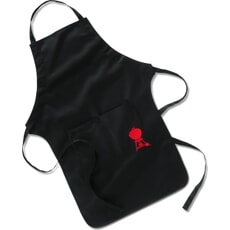 Name: WeberŪ Apron - Black - Adjustable Strap

Description: The Weber Black Apron is the ideal companion for all barbecuing and grill situations giving protection from food spills and flare backs along with protecting from sparks when loading or raking coals o

SKU: 6474

Code: 6474

UPC: 077924011894

Brand: Weber

URL: https://www.bbqworld.co.uk/weber-barbecues/accessories/weber-black-apron.asp

Our Price: (£) 18.7

Condition: New

Availability: