WeberŪ Barbecue Mitt

Product Code: 6472

Unfortunately this product is currently unavailable to purchase - we are not sure when we'll have it back in stock.
Sponsored Links
Product Information
This 6472 Weber Barbecue Mitt is a reliably protective must for safe grilling and two are even better.

The mitt is sized extra long to protect hands well beyond the wrist and is well insulated for extra protection as well as being sized to fit most hands.
Technical Specification


Weber Kettle logo
100% cotton twill outer
Heat resistant insulated lining
Foldable cuff adjusts length for fit
Hanging loop
Stretch gusset for easy on/off
Wipe clean with a damp cloth
Dimensions -
H 2.03cm x W 22.61cm x D 40.13cm
Material -
- Shell -100% cotton
- Infill - 100% polyester
- Lining - 100% polyester |
- Gusset - 96% cotton, 4% Spandex

Dimensions

BBQ Dimensions
Height (cm) -
Width (cm) -
Depth (cm) -
Weight (kg) - 0.3

Box Dimensions
Height (cm) - 2.5
Width (cm) - 19.1
Length (cm) - 39.4

Cooking Area
Width (cm) -
Depth (cm) -
Reviews of the WeberŪ Barbecue Mitt
Additional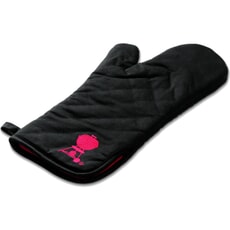 Name: WeberŪ Barbecue Mitt

Description: This 6472 Weber Barbecue Mitt is a reliably protective must for safe grilling and two are even better.

The mitt is sized extra long to protect hands well beyond the wrist and is well in
SKU: 6472

Code: 6472

UPC: 077924011887

Brand: Weber

Our Price: (£) 15.74

Condition: New

Availability: Out Of Stock

URL: https://www.bbqworld.co.uk/weber-barbecues/accessories/weber-barbecue-mitt.asp