Outback Kebab Rack with Skewers

Product Code: 370593

Unfortunately this product is currently unavailable to purchase - we are not sure when we'll have it back in stock.
Sponsored Links
Product Information
The Outback Kebab Rack with Skewers is designed to cook perfect kebabs everytime on your BBQ making the kebabs easier to turn and helping minimise sticking to the grates.

Flat bladed skewers and grip make them easier to pick up with mitted hands plus prevent the food on the skewers rotating when turning.
Technical Specification


Stainless Steel Skewers
Includes 6 skewers
Dimensions -
L 390 mm x 235 mm x H 65 mm

Dimensions

BBQ Dimensions
Height (cm) -
Width (cm) -
Depth (cm) -
Weight (kg) - 1

Box Dimensions
Height (cm) -
Width (cm) -
Length (cm) -

Cooking Area
Width (cm) -
Depth (cm) -
Reviews of the Outback Kebab Rack with Skewers
Additional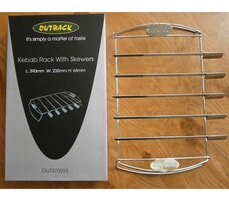 Name: Outback Kebab Rack with Skewers

Description: The Outback Kebab Rack with Skewers is designed to cook perfect kebabs everytime on your BBQ making the kebabs easier to turn and helping minimise sticking to the grates.

Flat bladed ske
SKU: 370593

Code: 370593

UPC: 5060406321043

Our Price: (£) 10.99

Condition: New

Availability: Out Of Stock

URL: https://www.bbqworld.co.uk/outback/outback-kebab-rack-with-skewers.asp