Outback Chimney Charcoal Starter

Product Code: 370171

Unfortunately this product is currently unavailable to purchase - we are not sure when we'll have it back in stock.
Sponsored Links
Product Information
Charcoal starters are a must have accessory for any charcoal barbecue as they cut the ready to cook time dramatically and give a more even heat distribution throughout the coals mean better grilling with less coals used.

Fill the Outback Charcoal Starter with coals or briquettes place over a fire lighter on the charcoal grate of the grill and in 10-15 minutes empty out the glowing contents ready to grill.
Technical Specification


Use with lumpwood charcoal or briquettes


Heatshield on handle

Dimensions

BBQ Dimensions
Height (cm) -
Width (cm) -
Depth (cm) -
Weight (kg) - 2

Box Dimensions
Height (cm) -
Width (cm) -
Length (cm) -

Cooking Area
Width (cm) -
Depth (cm) -
Reviews of the Outback Chimney Charcoal Starter
Additional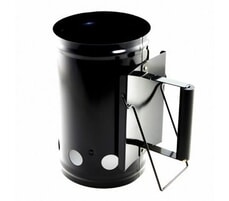 Name: Outback Chimney Charcoal Starter

Description: Charcoal starters are a must have accessory for any charcoal barbecue as they cut the ready to cook time dramatically and give a more even heat distribution throughout the coals mean better grilling w
SKU: 370171

Code: 370171

UPC: 5011426001361

Our Price: (£) 13.99

Condition: New

Availability: Out Of Stock

URL: https://www.bbqworld.co.uk/outback/outback-charcoal-starter.asp