Outback BBQ Apron and Mitt Set

Product Code: 370191

Unfortunately this product is currently unavailable to purchase - we are not sure when we'll have it back in stock.
Sponsored Links
Product Information
This practical Outback branded Apron & Mitt set, with it's hardwearing apron and heat resistant mitt, are just what is required to protect from the heat and dirt of a grilling session of.

The mitt has a hanging loop so it can always be kept to hand and the apron has a handy storage pocket.
Technical Specification


Includes 1 x Apron and 1 x Heat Resistant Mitt


One size


For use with charcoal or gas bbq's

Dimensions

BBQ Dimensions
Height (cm) -
Width (cm) -
Depth (cm) -
Weight (kg) - 0.4

Box Dimensions
Height (cm) -
Width (cm) -
Length (cm) -

Cooking Area
Width (cm) -
Depth (cm) -
Reviews of the Outback BBQ Apron and Mitt Set
Additional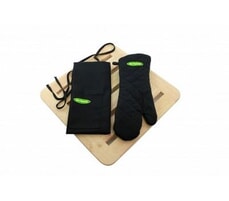 Name: Outback BBQ Apron and Mitt Set

Description: This practical Outback branded Apron & Mitt set, with it's hardwearing apron and heat resistant mitt, are just what is required to protect from the heat and dirt of a grilling session of.


SKU: 370191

Code: 370191

UPC: 5011426001569

Our Price: (£) 17.99

Condition: New

Availability: Out Of Stock

URL: https://www.bbqworld.co.uk/outback/outback-bbq-apron-and-mitt.asp