Napoleons Everyday Gourmet Burgers

Product Code: NAPCOOKBU

Price £33.24
RRP: £34.99 - Save 5%


In Stock : Yes - Currently in stock online - only 3 available!


Sponsored Links
Product Information
One of the mainstays of summer the humble hamburger leaps off the grill with the help of this mouthwatering collection of more than 100 different burger recipes, each one accompanied by glorious full-colour photographs. Tips and tricks that show you how to make the perfect burger every time from cooking on an uncovered grill and using the right meat binders, to seasoning and chilling ground meat properly prior to shaping all this and much more is explained step-by-step, meaning youll be enjoying amazing gourmet burgers in no time!
Technical Specification


Paperback: 240 pages
Publisher: Key Porter (27 May 2010)
Language English
ISBN-10: 1554702615
ISBN-13: 978-1554702619
Product Dimensions: 25.1 x 22.6 x 2.8 cm

Dimensions

BBQ Dimensions
Height (cm) -
Width (cm) -
Depth (cm) -
Weight (kg) - 1.4

Box Dimensions
Height (cm) -
Width (cm) -
Length (cm) -

Cooking Area
Width (cm) -
Depth (cm) -
Reviews of the Napoleons Everyday Gourmet Burgers
Additional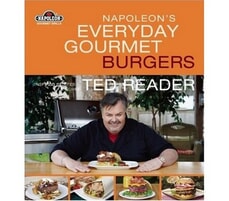 Name: Napoleons Everyday Gourmet Burgers

Description: One of the mainstays of summer the humble hamburger leaps off the grill with the help of this mouthwatering collection of more than 100 different burger recipes, each one accompanied by glorious full-
SKU: NAPCOOKBU

Code: NAPCOOKBU

UPC: 9781554702619

Our Price: (£) 33.24

Condition: New

Availability: In Stock

URL: https://www.bbqworld.co.uk/napoleon/napoleons-everyday-gourmet-burgers.asp