Napoleon Silicone Basting Mop

Product Code: 55009

Price £15.19
RRP: £15.99 - Save 5%


In Stock : Yes - Currently in stock online - only 6 available!


Sponsored Links
Product Information
The Napoleon Silicone Basting Mop is the way to get flavour enhancing sauces or marinades onto a roast, racks of ribs, or chickens simply and effectively. The heat resistant silicone head has been specifically built with textured knots to hold extra sauce plus liquids like vinegars and wines for easy application.

The Napoleon Silicone Basting Mop is far more effective than a cotton mop being easier to clean plus this mop is dishwasher safe and can be used without fear of odour or staining while the long handle is perfect for keeping hands away from heat while saucing the meat.

The Napoleon Silicone Basting Mop quickly, efficiently, and safely bastes food so donít loose heat from the grill by trying to sauce with a tiny brush.


Technical Specification


Swiftly baste large cuts of meat
Silicone resists odor and stains
Textured silicone holds sauces
Head detachable
Dishwasher safe

Dimensions

BBQ Dimensions
Height (cm) -
Width (cm) -
Depth (cm) -
Weight (kg) - 1

Box Dimensions
Height (cm) -
Width (cm) -
Length (cm) -

Cooking Area
Width (cm) -
Depth (cm) -
Reviews of the Napoleon Silicone Basting Mop
Additional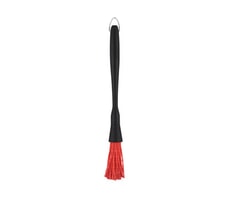 Name: Napoleon Silicone Basting Mop

Description: The Napoleon Silicone Basting Mop is the way to get flavour enhancing sauces or marinades onto a roast, racks of ribs, or chickens simply and effectively. The heat resistant silicone head has been spe
SKU: 55009

Code: 55009

UPC: 629162550095

Our Price: (£) 15.19

Condition: New

Availability: In Stock

URL: https://www.bbqworld.co.uk/napoleon/napoleon-silicone-basting-mop.asp