Napoleon PRO Series Replacement Brush Head and Scrubbing Sponge

Product Code: 70007

Price £8.54
RRP: £8.99 - Save 5%


In Stock : Yes - Currently in stock online - only 9 available!


Sponsored Links
Product Information
No need to replace your entire Napoleon PRO Stainless Steel Brush with Scraper - 62035, just use Napoleon replacement Brush Head.
Comes with a bonus Napoleon PRO series abrasive scrubber, perfect for getting to those well grilled on bits.


Technical Specification


Replacement Brush Head for Napoleon PRO Stainless Steel Brush with Scraper - 62035
Also includes Napoleon PRO series abrasive scrubber

Dimensions

BBQ Dimensions
Height (cm) -
Width (cm) -
Depth (cm) -
Weight (kg) - 1

Box Dimensions
Height (cm) -
Width (cm) -
Length (cm) -

Cooking Area
Width (cm) -
Depth (cm) -
Reviews of the Napoleon PRO Series Replacement Brush Head and Scrubbing Sponge
Additional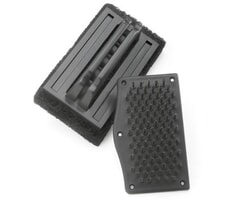 Name: Napoleon PRO Series Replacement Brush Head and Scrubbing Sponge

Description: No need to replace your entire Napoleon PRO Stainless Steel Brush with Scraper - 62035, just use Napoleon replacement Brush Head.
Comes with a bonus Napoleon PRO series abrasive scrubber, perf
SKU: 70007

Code: 70007

UPC: 629162700070

Our Price: (£) 8.54

Condition: New

Availability: In Stock

URL: https://www.bbqworld.co.uk/napoleon/napoleon-pro-series-replacement-brush-heads.asp