Napoleon PRO Pizza Spatula

Product Code: 70003

Unfortunately this product is currently unavailable to purchase - we are not sure when we'll have it back in stock.
Sponsored Links
Product Information
The Napoleon PRO Pizza Peel pizza spatula features a large head combined with a fold-away wooden handle.

The stainless steel edge slips smoothly under the pizza for consistent handling while the fold away wooden handle allows for easy storage in tight areas such as the under grill cabinet.


Technical Specification


PRO Series accessory
Large stainless steel surface
Folding handle
Easy storage
Dimensions (Approx) -
Paddle - 30 x 30cm
Handle - 34cm
Total Length - 70cm

Dimensions

BBQ Dimensions
Height (cm) -
Width (cm) -
Depth (cm) -
Weight (kg) - 1.5

Box Dimensions
Height (cm) -
Width (cm) -
Length (cm) -

Cooking Area
Width (cm) - 30cm
Depth (cm) - 30cm
Reviews of the Napoleon PRO Pizza Spatula
Additional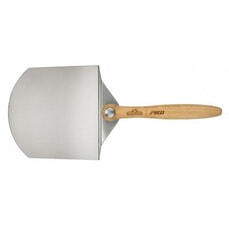 Name: Napoleon PRO Pizza Spatula

Description: The Napoleon PRO Pizza Peel pizza spatula features a large head combined with a fold-away wooden handle.

The stainless steel edge slips smoothly under the pizza for consistent handling while
SKU: 70003

Code: 70003

UPC: 629162700032

Our Price: (£) 34.99

Condition: New

Availability: Out Of Stock

URL: https://www.bbqworld.co.uk/napoleon/napoleon-pro-pizza-peel.asp