Napoleon Instant Thermometer

Product Code: 61004

Unfortunately this product is currently unavailable to purchase - we are not sure when we'll have it back in stock.
Sponsored Links
Product Information
The Napoleon Pocket Thermometer is a practical and convenient thermometer for measuring core temperatures of foods being cooked on a barbecue making it a great addition for the pocket of any grill apron.

The Napoleon Pocket Thermometer helps cook perfect steaks when it's steel probe is pushed into the centre of meat or fish to read the internal temperature, in both celsius and fahrenheit, ensurind there is sufficeint heat to fully cook without drying out the outer.
Technical Specification


Reads in C or F
Indoor and outdoor use
Heat resistant
For meats and fish
Handy pocket sized
Clean stem with soap and water only, do not wash in the dishwasher.

Dimensions

BBQ Dimensions
Height (cm) -
Width (cm) -
Depth (cm) -
Weight (kg) - 0.85

Box Dimensions
Height (cm) -
Width (cm) -
Length (cm) -

Cooking Area
Width (cm) -
Depth (cm) -
Reviews of the Napoleon Instant Thermometer
Additional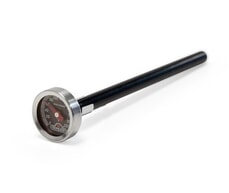 Name: Napoleon Instant Thermometer

Description: The Napoleon Pocket Thermometer is a practical and convenient thermometer for measuring core temperatures of foods being cooked on a barbecue making it a great addition for the pocket of any grill apr
SKU: 61004

Code: 61004

UPC: 629162610041

Our Price: (£) 3.99

Condition: New

Availability: Out Of Stock

URL: https://www.bbqworld.co.uk/napoleon/napoleon-pocket-thermometer.asp