Napoleon Oasis Wall Spacer Panel Carbon

Product Code: IMWSF17

Price £75.99
RRP: £79.99 - Save 5%


Availability : 3-5 days

This item is not currently in stock however we are expecting them shortly!


Sponsored Links
Product Information
Napoleon quality and performance go into all Oasis components. Pick your components to build the perfect outdoor kitchen Oasis for your lifestyle. Oasis Modular Wall Spacer. The Trim, sides and back are powder coated grey galvanized steel.
Technical Specification


Galvanized Steel Construction
Painted
- maintain required offset for installations fit against wall of
house or landscaping (for lid to open)
- clearance to combustibles must be maintained according to
the rating plate on the grill
- block off gap between cabinet and house

Dimensions

BBQ Dimensions
Height (cm) - 889
Width (cm) - 38
Depth (cm) - 102
Weight (kg) - 1.8

Box Dimensions
Height (cm) -
Width (cm) -
Length (cm) -

Cooking Area
Width (cm) -
Depth (cm) -
Reviews of the Napoleon Oasis Wall Spacer Panel Carbon
Additional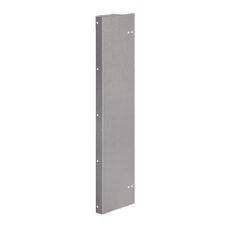 Name: Napoleon Oasis Wall Spacer Panel Carbon

Description: Napoleon quality and performance go into all Oasis components. Pick your components to build the perfect outdoor kitchen Oasis for your lifestyle. Oasis Modular Wall Spacer. The Trim, sides and back a
SKU: IMWSF17

Code: IMWSF17

UPC: 0629162115225

Our Price: (£) 79.99

Condition: New

Availability: PreOrder

URL: https://www.bbqworld.co.uk/napoleon/napoleon-oasis-wall-spacer-panel-carbon.asp