Napoleon Grilling Plank - Cedar

Product Code: 67034NAP

Price £8.54
RRP: £8.99 - Save 5%


Availability : 5-10 days

This item is not currently in stock however we are expecting them shortly!


Sponsored Links
Product Information
The Napoleon Grilling Plank - Cedar plank adds flavour to any food. Simply pre-soak the 100% untreated natural cedar planks in cold water for at least one hour before use to ensure consistent burn and smoke these hassle free planks are easy to use and disposable.
Technical Specification


Napoleon Grilling Plank - Cedar
100% Untreated Cedar Wood
Canadian Product
Dimensions -
H 2 cm x L 14 cm x W 30 cm

Dimensions

BBQ Dimensions
Height (cm) -
Width (cm) -
Depth (cm) -
Weight (kg) - 1

Box Dimensions
Height (cm) -
Width (cm) -
Length (cm) -

Cooking Area
Width (cm) -
Depth (cm) -
Reviews of the Napoleon Grilling Plank - Cedar
Additional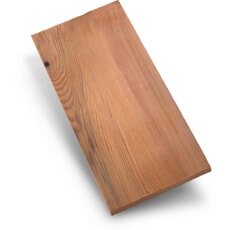 Name: Napoleon Grilling Plank - Cedar

Description: The Napoleon Grilling Plank - Cedar plank adds flavour to any food. Simply pre-soak the 100% untreated natural cedar planks in cold water for at least one hour before use to ensure consistent burn and
SKU: 67034NAP

Code: 67034NAP

UPC: 0629162670328

Our Price: (£) 8.99

Condition: New

Availability: PreOrder

URL: https://www.bbqworld.co.uk/napoleon/napoleon-grilling-plank-cedar.asp