Napoleon Commercial Rotisserie Kit - 405/450/485/495/500

Product Code: 69233

Unfortunately this product is currently unavailable to purchase - we are not sure when we'll have it back in stock.
Sponsored Links
Product Information
The Napoleon Commercial Rotisserie 405/450/485/495/500 is the ideal way to extend the roasting options available with any Napoleon 405/450/485/495/500 series grill.

Simply place this well made heavy duty rotisserie in the brackets on the barbecue, plug into the mains and fantastically cooked large roasts are on the menu.
Technical Specification



Awaiting technical specification.


Dimensions

BBQ Dimensions
Height (cm) -
Width (cm) -
Depth (cm) -
Weight (kg) - 4

Box Dimensions
Height (cm) -
Width (cm) -
Length (cm) -

Cooking Area
Width (cm) -
Depth (cm) -
Reviews of the Napoleon Commercial Rotisserie Kit - 405/450/485/495/500
Additional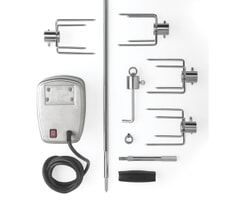 Name: Napoleon Commercial Rotisserie Kit - 405/450/485/495/500

Description: The Napoleon Commercial Rotisserie 405/450/485/495/500 is the ideal way to extend the roasting options available with any Napoleon 405/450/485/495/500 series grill.

Simply place this well
SKU: 69233

Code: 69233

UPC: 06291162692337

Our Price: (£) 161.49

Condition: New

Availability: In Stock

URL: https://www.bbqworld.co.uk/napoleon/napoleon-commercial-rotisserie-405-500.asp