Napoleon Grill Mat - Small

Product Code: 68001

Price £39.89
RRP: £41.99 - Save 5%


In Stock : Yes - Currently in stock online - only 6 available!


Sponsored Links
Product Information
The Napoleon Grill Mat helps protect whatever surface is under so is great for ensuring that a deck or patio is protected from oil and grease damage.

The attractive, easy to clean mat fits perfectly under a Napoleon Prestige 500 or PRO500 Series and smaller grills, but is perfect for using with a charcoal grill as it is fire resistant providing protection from hot ashes or embers. against accidentally dropped coals and errant sparks as well. The non-slip, diamond plate pattern is a stylish grey color, ideal for upping your grillís style factor while protecting your beautiful outdoor living area.
Technical Specification


Grill mat in "toolbox" pattern
3.5 mm thick
Protect surfaces under your grill from grease
Heat resistant material
Napoleon logo
Suitable for Napoleon PRO500 series or smaller grill models
Not suitable for use with composite decking
Dimensions -
119.5 cm x 81.5 cm

Dimensions

BBQ Dimensions
Height (cm) -
Width (cm) -
Depth (cm) -
Weight (kg) - 5

Box Dimensions
Height (cm) -
Width (cm) -
Length (cm) -

Cooking Area
Width (cm) -
Depth (cm) -
Reviews of the Napoleon Grill Mat - Small
Additional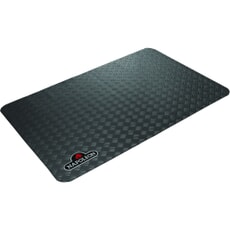 Name: Napoleon Grill Mat - Small

Description: The Napoleon Grill Mat helps protect whatever surface is under so is great for ensuring that a deck or patio is protected from oil and grease damage.

The attractive, easy to clean mat fits pe
SKU: 68001

Code: 68001

UPC: 0629162680013

Our Price: (£) 39.89

Condition: New

Availability: In Stock

URL: https://www.bbqworld.co.uk/napoleon/napoleon-bbq-grill-mat.asp