Napoleon Drop In 700 Series 10" Single Range Burner - Propane - 2021

Product Code: BIB10RTPSS

Price £332.49
RRP: £349.99 - Save 5%


Availability : Aug/Sept 2021

This item is not currently in stock however we are expecting them shortly!


Sponsored Links
Product Information
Create sides and sauces while the main grill is in use with this 10-inch, drop-in, Range Burner. Instantly ignite these burners single-handed with the JETFIRE™ Ignition System. The large, ergonomic NIGHTLIGHT™ Control Knobs provide ambiance and safety, glowing a glorious blue that changes to red when the burners are in use. Made from the same quality of marine-grade stainless steel as the 700 Series built-in grills, this drop-in side burner matches your custom outdoor kitchen. These burners provide stylish longevity and were built for ease of install.
Technical Specification


Napoleon Drop-In 700 Series 10" Single Range Burner - Propane
Single range burner
Heat output - upto 2.9kW
7.5mm shot blasted WAVE grid
Marine grade stainless steel
Stainless steel cover
JETFIRE instant ignition system
NIGHTLIGHT™ control knob - glows Blue when burner off, Red when burner on
Propane

Especially built for drop in use

Warranty - Lifetime
- Lifetime major components
- Parts for 15 years

Dimensions

BBQ Dimensions
Height (cm) - 17.5
Width (cm) - 34.3
Depth (cm) - 55.9
Weight (kg) - 5

Box Dimensions
Height (cm) -
Width (cm) -
Length (cm) -

Cooking Area
Width (cm) - 22.8
Depth (cm) - 26.6
Reviews of the Napoleon Drop In 700 Series 10" Single Range Burner - Propane - 2021
Additional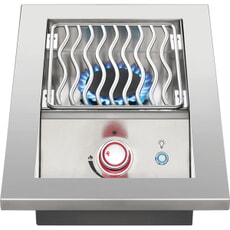 Name: Napoleon Drop In 700 Series 10" Single Range Burner - Propane - 2021

Description: Create sides and sauces while the main grill is in use with this 10-inch, drop-in, Range Burner. Instantly ignite these burners single-handed with the JETFIRE™ Ignition System. The large, ergonomic NI
SKU: BIB10RTPSS

Code: BIB10RTPSS

UPC: 0629162137609

Our Price: (£) 349.99

Condition: New

Availability: PreOrder

URL: https://www.bbqworld.co.uk/napoleon/napoleon-10-drop-in-single-range-burner.asp