Jamie Oliver Essential Coconut BBQ Briquettes 2.5kg

Product Code: JAMIE2.5


In Stock : Yes - Currently in stock online - More than 50 available


Sponsored Links
Product Information
Jamie Oliver Essential BBQ Briquettes 2.5kg are totally natural being made from 100% coconut shells which are held together by a tapioca starch binder making them odourless as they are free from additives and chemicals making them a natural, cleaner and more sustainable alternative to charcoal as they are CO2 neutral. They are easy to light giving the performance to cook for up to 160 minutes at a temperature above 180C

Packaged in 2.5kg paper bags, they are ideal for everyday use with the 160 minutes burning time above 180°C giving the ideal heat and time to perfectly cook meat, fish and vegetables for the whole family.

All charcoal and briquettes are contained within heavy weight paper bags which are then packed into a cardboard box for protection in transit with the courier.

On rare occasions the bag can split during shipping and whilst no charcoal or briquettes will be lost due to the cardboard box we strongly recommend the box is opened in an area where any dust from the charcoal or briquettes will not cause damage.
Technical Specification


160 minutes Burn time
Fast Lighting
100% Natural

Carbon Monoxide hazard
Never ignite and use indoors
Store in a cool dry space away from other inflammable products
Use at a safe distance from imflammable products
After cooking remove the dome and grill plate to allow to burn out away from children & animals
Be sure the ashes are completely burnt out before discarding in refuse bin away from children & animals

Dimensions

BBQ Dimensions
Height (cm) -
Width (cm) -
Depth (cm) -
Weight (kg) - 2.5

Box Dimensions
Height (cm) -
Width (cm) -
Length (cm) -

Cooking Area
Width (cm) -
Depth (cm) -
Reviews of the Jamie Oliver Essential Coconut BBQ Briquettes 2.5kg
Additional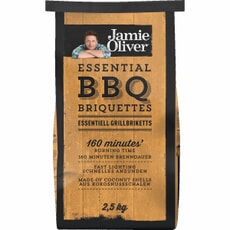 Name: Jamie Oliver Essential Coconut BBQ Briquettes 2.5kg

Description: Jamie Oliver Essential BBQ Briquettes 2.5kg are totally natural being made from 100% coconut shells which are held together by a tapioca starch binder making them odourless as they are free from addit
SKU: JAMIE2.5

Code: JAMIE2.5

UPC: 5701161713949

Our Price: (£) 4.99

Condition: New

Availability: In Stock

URL: https://www.bbqworld.co.uk/heat-beads/jamie-oliver-essential-bbq-briquettes-2-5kg.asp