Grand Hall Premium GT3 Build In

Product Code: B02316320A

Unfortunately this product is currently unavailable to purchase - we are not sure when we'll have it back in stock.
Items included in this offer
1 x Grand Hall Propane Regulator and Hose - Y0080029 -

IN STOCK
1 x Grand Hall Premium GT3 Build In - B02316320A-

CURRENTLY OUT OF STOCK


Sponsored Links
Product Information
New to the 2014 range, the GT3 premium barbecue really is one for lovers of good food. With its excellent construction and stylish design, this barbecue will look fantastic in any garden or patio area. With a single touch of a button, the grill fires up and reaches cooking temperature within minutes. Thanks to the built in temperature gauge, you can get the perfect temperatures for baking, oven cooking and roasting. Designed with a generous 60 x 44cm cooking area which is covered with 2 cast iron porcelain coated grids and 1 cast iron porcelain coated hot plate under these plates you will find 3 burners which are individually controlled using the stylish control knobs located on the front control panel. A chrome plated warming rack sits at the back of the cooking are for keeping cooked food warm. Any juices dripping between the burners are caught on a galvanized drip tray that can be slide out from the front of the BBQ for easy cleaning and maintenance. This Grand Hall barbecue is designed to be built in to your own patio brick work - the grill comes fully assembled and is easy to fit.
Technical Specification


2 Cast Iron Porcelain Coated Grids 44 x 19cm
1 Cast Iron Porcelain Coated Hot Plate 44 x 19cm
Warming Rack Included
Removable Grease Tray

Dimensions

BBQ Dimensions
Height (cm) - 50
Width (cm) - 61.3
Depth (cm) - 63.5
Weight (kg) - 30

Box Dimensions
Height (cm) -
Width (cm) -
Length (cm) -

Cooking Area
Width (cm) - 60
Depth (cm) - 44
Reviews of the Grand Hall Premium GT3 Build In
Additional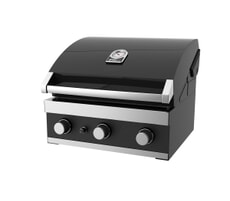 Name: Grand Hall Premium GT3 Build In

Description: New to the 2014 range, the GT3 premium barbecue really is one for lovers of good food. With its excellent construction and stylish design, this barbecue will look fantastic in any garden or patio area

SKU: B02316320A

Code: B02316320A

UPC: 9318478009656

URL: https://www.bbqworld.co.uk/grandhall/grand-hall-premium-gt3-build-in.asp

Our Price: (£) 349

Condition: New

Availability: