Dancook 1600 Charcoal BBQ

Product Code: 109004

Unfortunately this product is currently unavailable to purchase - we are not sure when we'll have it back in stock.
Sponsored Links
Product Information
45cm Diameter - The patented liner in Dancook´s kettle barbecue collect grease and ashes - and because the combustion air is pre-heated, the cooking effect is encreased by 50%. The advantages are reduced use of briquettes and easier cleaning. That is the unique idea behind the Dancook kettle barbecue. A Dancook kettle barbecue is best characterized by its simple design and its many unique details. The materials used are stainless steel and aluminium. The 6 mm grid and the many built in details guarantees optimal cooking results every time. In addition, Dancook supplies an extensive range of accessories.
Technical Specification


Some Assembly Required

Dimensions

BBQ Dimensions
Height (cm) - 89
Width (cm) - 60
Depth (cm) - 57
Weight (kg) - 14

Box Dimensions
Height (cm) -
Width (cm) -
Length (cm) -

Cooking Area
Width (cm) - 40
Depth (cm) - 40
Reviews of the Dancook 1600 Charcoal BBQ
Additional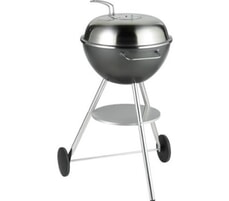 Name: Dancook 1600 Charcoal BBQ

Description: 45cm Diameter - The patented liner in Dancook´s kettle barbecue collect grease and ashes - and because the combustion air is pre-heated, the cooking effect is encreased by 50%. The advantages are redu
SKU: 109004

Code: 109004

UPC: 5709193090045

Our Price: (£) 149.99

Condition: New

Availability: Out Of Stock

URL: https://www.bbqworld.co.uk/dancook/dancook-1600.asp