Ultra Quick BBQ Charcoal 5 Pieces

Product Code: COBBQIKCH

Unfortunately this product is currently unavailable to purchase - we are not sure when we'll have it back in stock.
Sponsored Links
Product Information
Created by Cobb the safe and economical Ultraquick brick gives one hour grilling time when used in any charcoal barbecue or one and a half hours oven cooking time when used in a Cobb BBQ.

The Ultraquick bricks are safe and economical to use and are fully smoke free and ready to cook in 5 minutes with initial ignition being much quicker as they have a built in firelighter.

The Ultraquick bricks are made from coconut husk, otherwise known as coconut shell charcoal, which burns hotter and for longer than conventional wood charcoal.
Technical Specification


Safe and economical
Complete ignition and ready to use in 2 minutes
After 2 minutes of ignition is smoke free
Built in firelighter
Made from Coconut husk
One Ultra Quick brick gives 1 hour grilling time in a charcoal or 1.5 hours oven cooking time if used in a Cobb
Burns hotter and longer than conventional wood charcoal

WARNING
Carbon Monoxide hazard
Never ignite and use indoors
Store in a cool dry space away from other inflammable products
Use at a safe distance from imflammable products
After cooking remove the dome and grill plate to allow to burn out away from children & animals
Be sure the ashes are completely burnt out before discarding in refuse bin away from children & animals

Dimensions

BBQ Dimensions
Height (cm) -
Width (cm) -
Depth (cm) -
Weight (kg) - 2.5

Box Dimensions
Height (cm) -
Width (cm) -
Length (cm) -

Cooking Area
Width (cm) -
Depth (cm) -
Reviews of the Ultra Quick BBQ Charcoal 5 Pieces
Additional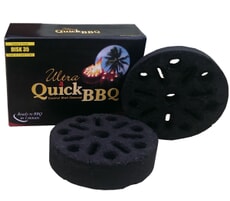 Name: Ultra Quick BBQ Charcoal 5 Pieces

Description: Created by Cobb the safe and economical Ultraquick brick gives one hour grilling time when used in any charcoal barbecue or one and a half hours oven cooking time when used in a Cobb BBQ.



SKU: COBBQIKCH

Code: COBBQIKCH

UPC: 8809161380035

URL: https://www.bbqworld.co.uk/cobb/ultra-quick-bbq-charcoal-5-pieces.asp

Our Price: (£) 9.45

Condition: New

Availability: