Cobb Cobblestones (6 Pieces)

Product Code: COBBCOBBLE
Sponsored Links
Product Information
The Cobb Cobblestones (6 Pieces) are specially designed to be the ideal, but not the only way, to fuel a Cobb barbecue. They are composed from coconut husk that is a by product of the food industry which would otherwise be disposed of as waste product.

The Cobblestones are safe and economical to use, with complete ignition being achieved within 2 minutes by the built in firelighter, and as they are made with coconut husk are bio-degradable.

One Cobble Stone gives over 2 hours cooking time if used in a Cobb, burning hotter and longer than any conventional wood charcoal being smoke free and ready to cook 5 minutes after ignition.
Technical Specification


Contains 6 Cobblestones
Safe and economical
Complete ignition of Cobblestone is achieved within 2 minutes
Built in firelighter
Bio-degradable
Made with coconut husk
One Cobble Stone gives over 2 hours cooking time when used in a Cobb barbecue
Burns hotter and longer than conventional wood charcoal
After 5 minutes from ignition Cobblestones are smoke free and ready to cook

WARNING
Carbon Monoxide hazard
Never ignite and use indoors
Store in a cool dry space away from other inflammable products
Use at a safe distance from imflammable products
After cooking remove the dome and grill plate to allow the Cobblestone to burn out away from children & animals
Be sure the ashes are completely burnt out before discarding in refuse bin away from children & animals

Approximate weight - 2.7 kg.

Dimensions

BBQ Dimensions
Height (cm) -
Width (cm) -
Depth (cm) -
Weight (kg) - 2.4

Box Dimensions
Height (cm) -
Width (cm) -
Length (cm) -

Cooking Area
Width (cm) -
Depth (cm) -
Reviews of the Cobb Cobblestones (6 Pieces)
Additional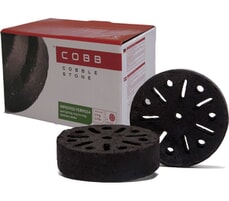 Name: Cobb Cobblestones (6 Pieces)

Description: The Cobb Cobblestones (6 Pieces) are specially designed to be the ideal, but not the only way, to fuel a Cobb barbecue. They are composed from coconut husk that is a by product of the food industry wh

SKU: COBBCOBBLE

Code: COBBCOBBLE

UPC: 6009688700411

URL: https://www.bbqworld.co.uk/cobb/cobb-cobblestones-6-pieces.asp

Our Price: (£) 14.95

Condition: New

Availability: In Stock