Cobb Barbecue Kit inc Fire Basket

Product Code: COBBPABQ
Sponsored Links
Product Information
The Cobb Barbecue Kit is just another way to enhance your Cobb experience, allowing you to use your Cobb as an open grill barbecue.

It has been made from high end food grade stainless steel and features a V shaped grid which helps minimise flareups.

The Cobb Barbecue Kit is intended for use with up to 450 gm charcoal which equals approx 12 briquettes though it is strongly recommended that fuel quantities are not exceeded.
Technical Specification


Food grade stainless steel

Included in the BBQ Kit -
Extended Fire Grid plus BBQ Grid
Set of grommets

Compatible with -
Cobb Premier
Cobb PRO
Cobb Compact - Compact extension required.

Dimensions

BBQ Dimensions
Height (cm) -
Width (cm) -
Depth (cm) -
Weight (kg) - 1

Box Dimensions
Height (cm) -
Width (cm) -
Length (cm) -

Cooking Area
Width (cm) -
Depth (cm) -
Reviews of the Cobb Barbecue Kit inc Fire Basket
Additional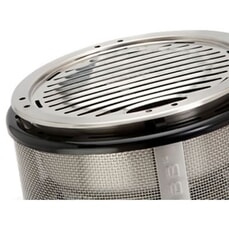 Name: Cobb Barbecue Kit inc Fire Basket

Description: The Cobb Barbecue Kit is just another way to enhance your Cobb experience, allowing you to use your Cobb as an open grill barbecue.

It has been made from high end food grade stainless steel a

SKU: COBBPABQ

Code: COBBPABQ

UPC: 6009688701623

URL: https://www.bbqworld.co.uk/cobb/cobb-barbecue-kit.asp

Our Price: (£) 39.42

Condition: New

Availability: In Stock