Char-Broil All-Star120 Black Gas BBQ

Product Code: 140881

Unfortunately this product is currently unavailable to purchase - we are not sure when we'll have it back in stock.
Sponsored Links
Product Information
The Char-Broil All-Star Black Gas BBQ has been introduced by Char-Broil to give the option to have a versatile and easy to use barbecue with all the convenience of a bottled gas power source that is equally suited to use both on a terrace or patio at home, when it is located into it's stand, or when out and about on adventures when it has been simply separated from it's stand. When space is tight the two side tables will easily fold down to reduce the amount of space taken up.

The compact sizing has not been achieved by taking any short cuts as the cooking system has a full specification complete with features such a Char-Broil's tried and tested TRU-Infrared™ cooking grates which includes porcelain coated cast iron cooking grates teamed up with a stainless steel emitter plate.

A stainless steel burner with a power output of 3.8kW combined with porcelain coated steel heat tents to diffuse the heat to the cooking surface give full big barbecue performance so a small overall size need not be a limitation on the barbecuing session be it at home or on the beach or any other destination.


Technical Specification


All-Star 120 barbecue can be used totally independently from it's stand to place on a table top - simply undo two locks
Stainless steel burner
Main burner power - 3.8kW
Control panel with lighted knob
TRU-Infrared™ cooking grates -
- porcelain coated cast iron cooking grates
- stainless steel emitter plate
Porcelain coated steel heat tents
2 folding side tables with utensil hooks

Some assembly required

Dimensions

BBQ Dimensions
Height (cm) - 110
Width (cm) - 65
Depth (cm) - 102
Weight (kg) - 30

Box Dimensions
Height (cm) -
Width (cm) -
Length (cm) -

Cooking Area
Width (cm) - 45
Depth (cm) - 45
Reviews of the Char-Broil All-Star120 Black Gas BBQ
Additional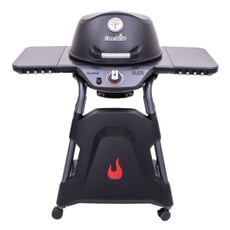 Name: Char-Broil All-Star120 Black Gas BBQ

Description: The Char-Broil All-Star Black Gas BBQ has been introduced by Char-Broil to give the option to have a versatile and easy to use barbecue with all the convenience of a bottled gas power source that is e

SKU: 140881

Code: 140881

UPC: 4260547593298

URL: https://www.bbqworld.co.uk/char-broil/char-broil-all-star-black-gas-bbq.asp

Our Price: (£) 341.99

Condition: New

Availability: