Char-Broil Convective 440 Steel Gas BBQ EX-DISPLAY

Product Code: CEXDISP2

Unfortunately this product is currently unavailable to purchase - we are not sure when we'll have it back in stock.
Sponsored Links
Product Information
EX-DISPLAY SOLD AS SEEN BBQ - Scuff marks on lid which can be seen in the image. The item is only available for collection or delivery to within 15 miles of the store address (BB7 2EU). Any orders made outside of this will be cancelled unless you wish to arrange the collection of the BBQ (please email us). Any parts damaged will not be covered under warranty nor can they be replaced.

The Convective 4-burner grill features a modern stainless steel cabinet design with doors and the stainless steel burners emit flame from the top for even cooking & added durability. This grill is made to last, with cast iron grates for perfect sear marks and easy cleaning. All the features are here, including a removable porcelain-coated grease pan, a side burner & an electronic igniter.


Technical Specification



Awaiting technical specification.


Dimensions

BBQ Dimensions
Height (cm) - 115
Width (cm) - 135
Depth (cm) - 63
Weight (kg) - 55

Box Dimensions
Height (cm) - 51
Width (cm) - 85
Length (cm) - 76

Cooking Area
Width (cm) - 65
Depth (cm) - 47
Reviews of the Char-Broil Convective 440 Steel Gas BBQ EX-DISPLAY
Additional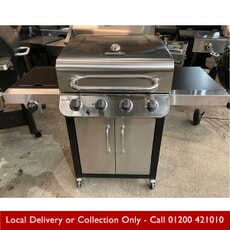 Name: Char-Broil Convective 440 Steel Gas BBQ EX-DISPLAY

Description: EX-DISPLAY SOLD AS SEEN BBQ - Scuff marks on lid which can be seen in the image. The item is only available for collection or delivery to within 15 miles of the store address (BB7 2EU).

SKU: CEXDISP2

Code: CEXDISP2

UPC:

URL: https://www.bbqworld.co.uk/char-broil/cexdisp2.asp

Our Price: (£) 229

Condition: New

Availability: