Cadac Stratos Hard Anodised Warmer Pan

Product Code: 98700-50

Unfortunately this product is currently unavailable to purchase - we are not sure when we'll have it back in stock.
Sponsored Links
Product Information
The Cadac Stratos Warmer Pan is built from thick, solid aluminum with teflon coating inside and stainless steel handles.

The hard anodized exterior gives tough scratch resistance and the non-stick interior is coated with non-stick material for easy cooking and cleaning.

The Cadac Stratos Warmer Pan is one of the two modular drop in top options available for use with the Cadac Stratos barbecues.
Technical Specification


To fit Cadac Stratos BBQ Range


Non stick coated interior
Hard anodised aluminium
19cm x 41.5cm


Please note will NOT fit Cadac Meridian or Titan BBQ ranges.

Dimensions

BBQ Dimensions
Height (cm) -
Width (cm) -
Depth (cm) -
Weight (kg) - 3

Box Dimensions
Height (cm) -
Width (cm) -
Length (cm) -

Cooking Area
Width (cm) -
Depth (cm) -
Reviews of the Cadac Stratos Hard Anodised Warmer Pan
Additional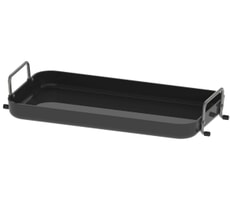 Name: Cadac Stratos Hard Anodised Warmer Pan

Description: The Cadac Stratos Warmer Pan is built from thick, solid aluminum with teflon coating inside and stainless steel handles.

The hard anodized exterior gives tough scratch resistance and the

SKU: 98700-50

Code: 98700-50

UPC: 6001773103503

URL: https://www.bbqworld.co.uk/cadac/cadac-stratos-warmer-pan.asp

Our Price: (£) 40

Condition: New

Availability: