Cadac Meridian Non Stick Reversible Grill Plate

Product Code: 98505

Unfortunately this product is currently unavailable to purchase - we are not sure when we'll have it back in stock.
Sponsored Links
Product Information
The Cadac Reversable Grill is a simple way to broaden the cooking options available on Cadac Meridian and Titan barbecues.

Simply lift out one of the existing cooking grates and replace with the Cadac Reversable Grill which ever way up you choose - ridged or flat.

The Cadac Reversable Grill is one of the five modular drop in top options available for use with Cadac Titan and Meridian barbecues.
Technical Specification


Use with Cadac Meridian and Titan grills
Non stick PTFE coated surface
Reversable flat and ribbed grill
Dimensions - 26.5 cm x 48cm

Dimensions

BBQ Dimensions
Height (cm) -
Width (cm) -
Depth (cm) -
Weight (kg) - 3

Box Dimensions
Height (cm) -
Width (cm) -
Length (cm) -

Cooking Area
Width (cm) -
Depth (cm) -
Reviews of the Cadac Meridian Non Stick Reversible Grill Plate
Additional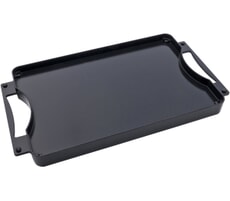 Name: Cadac Meridian Non Stick Reversible Grill Plate

Description: The Cadac Reversable Grill is a simple way to broaden the cooking options available on Cadac Meridian and Titan barbecues.

Simply lift out one of the existing cooking grates and replace w
SKU: 98505

Code: 98505

UPC: 6001773985055

Our Price: (£) 50

Condition: New

Availability: Out Of Stock

URL: https://www.bbqworld.co.uk/cadac/cadac-reversable-grill.asp