Cadac Magnetic Digital Thermometer - 18cm

Product Code: 2015006

Price £9.50
RRP: £10.00 - Save 5%


In Stock : Yes - Currently in stock online - only 4 available!


Sponsored Links
Product Information
The Cadac Magnetic Digital Thermometer is an easy read instant digital thermometer that enable the checking on the internal temperature of foods being cooked on the grill.

Never lose the thermometer, or not have it close to hand, as the magnets mean the thermometer can be attached to any metal surface with the exception of stainless steel.
Technical Specification


Magnetic thermometer
Easy-to-read digital temperature dispay
Durable stainless steel proble
Battery and probe cover included

Dimensions

BBQ Dimensions
Height (cm) -
Width (cm) -
Depth (cm) -
Weight (kg) - 1

Box Dimensions
Height (cm) -
Width (cm) -
Length (cm) -

Cooking Area
Width (cm) -
Depth (cm) -
Reviews of the Cadac Magnetic Digital Thermometer - 18cm
Additional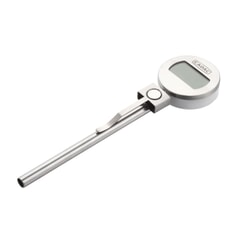 Name: Cadac Magnetic Digital Thermometer - 18cm

Description: The Cadac Magnetic Digital Thermometer is an easy read instant digital thermometer that enable the checking on the internal temperature of foods being cooked on the grill.

Never lose the
SKU: 2015006

Code: 2015006

UPC: 6001773108669

Our Price: (£) 9.5

Condition: New

Availability: In Stock

URL: https://www.bbqworld.co.uk/cadac/cadac-magnetic-digital-thermometer.asp