Cadac BBQ Cover 50

Product Code: 8626

Unfortunately this product is currently unavailable to purchase - we are not sure when we'll have it back in stock.
Sponsored Links
Product Information
The Cadac 47cm BBQ Cover extends the life and maintains the condition of a 47cm barbecue with it's full length heavy duty, weather proof and UV resistant nylon BBQ cover with a tie cord closure to help keep the cover secure on windy days.

Designed to fit and protect any 47cm barbecue all year round.
Technical Specification


Fits any 47cm barbecue
Ideal for Cadac Skottel Braai and Carri Chef
3/4 length weatherproof nylon cover
UV resistant
Tie cord secure

Dimensions

BBQ Dimensions
Height (cm) -
Width (cm) -
Depth (cm) -
Weight (kg) - 1

Box Dimensions
Height (cm) -
Width (cm) -
Length (cm) -

Cooking Area
Width (cm) -
Depth (cm) -
Reviews of the Cadac BBQ Cover 50
Additional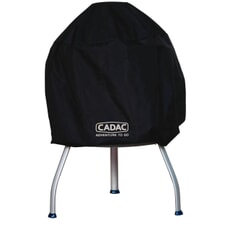 Name: Cadac BBQ Cover 50

Description: The Cadac 47cm BBQ Cover extends the life and maintains the condition of a 47cm barbecue with it's full length heavy duty, weather proof and UV resistant nylon BBQ cover with a tie cord closure to hel
SKU: 8626

Code: 8626

UPC: 6001773086264

Our Price: (£) 10

Condition: New

Availability: Out Of Stock

URL: https://www.bbqworld.co.uk/cadac/cadac-chef-braai-cover-47cm.asp