Cadac Chef Pan 50

Product Code: 8910-102

Unfortunately this product is currently unavailable to purchase - we are not sure when we'll have it back in stock.
Sponsored Links
Product Information
The Cadac Carri Chef 2 Chef Pan is a non-stick interchangeable cooking surface that can be used as an additional cooking option for the Cadac Carri Chef 2 and Braai range of gas barbecues.

The non-stick interior of the pan makes it ideal for preparing paellas, risottos, pasta dishes,traditional breakfasts etc

The Cadac Carri Chef 2 Chef Pan can also be used on a gas or electric stove or hob.
Technical Specification


Non stick easy clean aluminium pan
Includes convenient storage bag
Diameter - 45cm

Dimensions

BBQ Dimensions
Height (cm) -
Width (cm) -
Depth (cm) -
Weight (kg) - 1.4

Box Dimensions
Height (cm) -
Width (cm) -
Length (cm) -

Cooking Area
Width (cm) -
Depth (cm) -
Reviews of the Cadac Chef Pan 50
Additional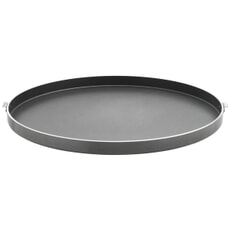 Name: Cadac Chef Pan 50

Description: The Cadac Carri Chef 2 Chef Pan is a non-stick interchangeable cooking surface that can be used as an additional cooking option for the Cadac Carri Chef 2 and Braai range of gas barbecues.


SKU: 8910-102

Code: 8910-102

UPC: 6001773104159

Our Price: (£) 50

Condition: New

Availability: Out Of Stock

URL: https://www.bbqworld.co.uk/cadac/cadac-carri-chef-2-chef-pan.asp