Broil King Heavy Duty Cover - Signet 320/340/390

Product Code: 68487

Unfortunately this product is currently unavailable to purchase - we are not sure when we'll have it back in stock.
Sponsored Links
Product Information
The Broil King Signet 320/340/390 Cover is the way to protect any of the Signet 320/340/390, Baron 440, 490, Sovereign 20/40/90, 2013 and newer models,Sterling 2588, 2858, 2868, 2888 and Broil King Crown 20, 40 and 90 models of grills from the elements and air borne dirt when you are not grilling.

The Broil King Signet/Sovereign 20/40/90 Cover has a mesh vent for enhanced air flow and moisture resistance. Velcro closures ensure a superior fit and comes fitted with moulded rubber handles makjng it easy to put on and remove.
Technical Specification


Broil King Heavy Duty Exact Fit BBQ Cover 68487


Fits the following models -
Sterling 2588, 2858, 2868, 2888
Broil King Crown 20, 40 and 90 Models
Baron 440, 490
Sovereign 20, 40 and 90 models (2013 and newer)
Signet 320, 340, 390
Crown Classic 410, 430


Made of durable woven polyester.
With a water resistant PVC lining.
Features mesh venting for enhanced air flow and moisture resistance.
Hook-and-loop closures for a superior fit.
Blue baseball style stitching adds style to the reinforced seems.
Molded rubber handles make the cover easy to remove.

Dimensions

BBQ Dimensions
Height (cm) -
Width (cm) -
Depth (cm) -
Weight (kg) - 3

Box Dimensions
Height (cm) -
Width (cm) -
Length (cm) -

Cooking Area
Width (cm) -
Depth (cm) -
Reviews of the Broil King Heavy Duty Cover - Signet 320/340/390
Additional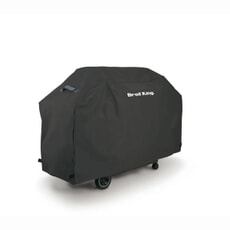 Name: Broil King Heavy Duty Cover - Signet 320/340/390

Description: The Broil King Signet 320/340/390 Cover is the way to protect any of the Signet 320/340/390, Baron 440, 490, Sovereign 20/40/90, 2013 and newer models,Sterling 2588, 2858, 2868, 2888 and Broil King
SKU: 68487

Code: 68487

UPC: 060162684876

Our Price: (£) 99.99

Condition: New

Availability: Out Of Stock

URL: https://www.bbqworld.co.uk/broil-king/premium-heavy-duty-cover-crown.asp