Broil King Premium Dual Prong Skewer Set

Product Code: 64045

Price £26.91
RRP: £29.90 - Save 10%


In Stock : Yes - Currently in stock online - More than 10 available


Sponsored Links
Product Information
The Broil King Premium Skewer Set uses skewers with dual prongs both to secure the food more successfully and increase the capacity.

The over sized handles, with their Broil King logo, make the skewers easier to turn on the grill for consistent exposure to the heat on all sides.

The solid stainless steel construction means that these skewers are durable, long lasting and easy to clean.
Technical Specification


Pack Of 4
Premium heavy duty stainless steel
Length 35.5cm

Dimensions

BBQ Dimensions
Height (cm) -
Width (cm) -
Depth (cm) -
Weight (kg) - 0.8

Box Dimensions
Height (cm) -
Width (cm) -
Length (cm) -

Cooking Area
Width (cm) -
Depth (cm) -
Reviews of the Broil King Premium Dual Prong Skewer Set
Additional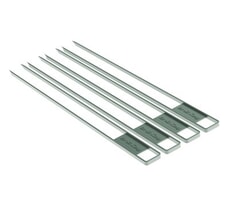 Name: Broil King Premium Dual Prong Skewer Set

Description: The Broil King Premium Skewer Set uses skewers with dual prongs both to secure the food more successfully and increase the capacity.

The over sized handles, with their Broil King logo, ma
SKU: 64045

Code: 64045

UPC: 60162640452

Our Price: (£) 26.91

Condition: New

Availability: In Stock

URL: https://www.bbqworld.co.uk/broil-king/broil-king-premium-skewer-set.asp