Broil King Premium Deep Dish Grill Wok

Product Code: 69818

Price £50.39
RRP: £55.99 - Save 10%


In Stock : Yes - Currently in stock online - only 5 available!


Sponsored Links
Product Information
The Broil King Premium Deep Dish Grill Wok is constructed from 1.2mm high grade stainless steel with i t's oversized 34cm x 25cm design giving more cooking space while its deep dish helps keep foods contained within the wok.

The oversized stainless steel 10mm handles with raised square perforation holes contribute to the rigidity of the design while the raised perforations help keep food from sticking whilst allowing cooking juices to fall through to be vapourised in the barbecue to add taste to whatever is being cooked.
Technical Specification


Also known as the Broil King Stainless Steel Deep Square Wok
Stainless steel
Dishwasher safe

Dimensions

BBQ Dimensions
Height (cm) -
Width (cm) -
Depth (cm) -
Weight (kg) - 1.5

Box Dimensions
Height (cm) -
Width (cm) -
Length (cm) -

Cooking Area
Width (cm) -
Depth (cm) -
Reviews of the Broil King Premium Deep Dish Grill Wok
Additional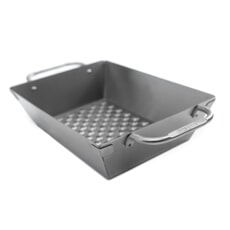 Name: Broil King Premium Deep Dish Grill Wok

Description: The Broil King Premium Deep Dish Grill Wok is constructed from 1.2mm high grade stainless steel with i t's oversized 34cm x 25cm design giving more cooking space while its deep dish helps keep foods c
SKU: 69818

Code: 69818

UPC: 060162698187

Our Price: (£) 50.39

Condition: New

Availability: In Stock

URL: https://www.bbqworld.co.uk/broil-king/broil-king-premium-deep-dish-grill-wok.asp