Broil King Premium Cover - Built In Imp 490/Reg 420

Product Code: 68591

Price £67.45
RRP: £74.95 - Save 10%


Availability : 3-5 days

This item is not currently in stock however we are expecting them shortly!


Sponsored Links
Product Information
The Broil King Premium Cover - Built In Imperial 490/Built In Regal 420 has been constructed from water resistant PVC which has been combined with a heavy woven 900D polyester backing. This premium cover feature magnets in the bottom hem to ensure a secure fit with Blue accent stitching adding some style to the extra reinforced seams.

The moulded rubber handles make the cover easy to remove creating well built covers with an attention to detail to similar to that which can be found in Broil King barbecues themselves.
Technical Specification


Premium PVC/Polyester fabric
Fits the following Broil King Built In Gas barbecues -
Imperial 490 - Built In w/Cabinet
Imperial 490 - Built In
Regal 420 - Built In

Dimensions

BBQ Dimensions
Height (cm) -
Width (cm) -
Depth (cm) -
Weight (kg) - 2.5

Box Dimensions
Height (cm) -
Width (cm) -
Length (cm) -

Cooking Area
Width (cm) -
Depth (cm) -
Reviews of the Broil King Premium Cover - Built In Imp 490/Reg 420
Additional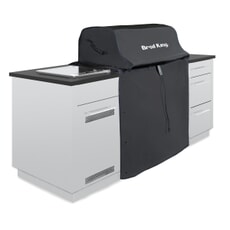 Name: Broil King Premium Cover - Built In Imp 490/Reg 420

Description: The Broil King Premium Cover - Built In Imperial 490/Built In Regal 420 has been constructed from water resistant PVC which has been combined with a heavy woven 900D polyester backing. This premium co
SKU: 68591

Code: 68591

UPC: 0060162685910

Our Price: (£) 74.95

Condition: New

Availability: PreOrder

URL: https://www.bbqworld.co.uk/broil-king/broil-king-premium-cover-built-in-imp490-reg-420.asp