Broil King Premium Charcoal Chimney Starter

Product Code: 63980

Unfortunately this product is currently unavailable to purchase - we are not sure when we'll have it back in stock.
Sponsored Links
Product Information
Broil King Imperial Heavy Duty all stainless steel design with high density resin handle.
Lights up to 1kg of charcoal without fire lighters by simply placing a sheet of crumpled newspaper in the base of the starter, add the charcoal and light the paper then the venturi effect will light the charcoal within 5-10 minutes.
Technical Specification


Dimensions-

H 30 cm x L 31 cm x D 20

Dimensions

BBQ Dimensions
Height (cm) -
Width (cm) -
Depth (cm) -
Weight (kg) - 1.2

Box Dimensions
Height (cm) -
Width (cm) -
Length (cm) -

Cooking Area
Width (cm) -
Depth (cm) -
Reviews of the Broil King Premium Charcoal Chimney Starter
Additional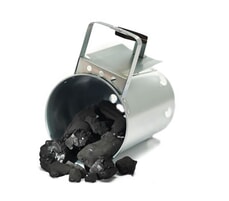 Name: Broil King Premium Charcoal Chimney Starter

Description: Broil King Imperial Heavy Duty all stainless steel design with high density resin handle.
Lights up to 1kg of charcoal without fire lighters by simply placing a sheet of crumpled newspaper in t
SKU: 63980

Code: 63980

UPC: 06016263980

Our Price: (£) 39.99

Condition: New

Availability: Out Of Stock

URL: https://www.bbqworld.co.uk/broil-king/broil-king-premium-charcoal-chimney-starter.asp