Broil King Heavy Duty Cover - Imperial

Product Code: 68490

Price £116.99
RRP: £129.99 - Save 10%


In Stock : Yes - Currently in stock online - only 4 available!


Sponsored Links
Product Information
The Broil King Imperial XL Cover is a heavy duty cover crafted of durable woven polyester with a water resistant PVC lining tailored to fit the Broil King Imperial XL.

It has a mesh vent for enhanced air flow and moisture resistance. Velcro closures ensure a superior fit and comes fitted with moulded rubber handles making it easy to put on and remove.
Technical Specification


Measures - 76" x 48" x 25"
Fits The Broil King Imperial XL

Dimensions

BBQ Dimensions
Height (cm) -
Width (cm) -
Depth (cm) -
Weight (kg) - 4

Box Dimensions
Height (cm) - 32
Width (cm) - 24
Length (cm) - 15

Cooking Area
Width (cm) -
Depth (cm) -
Reviews of the Broil King Heavy Duty Cover - Imperial
Additional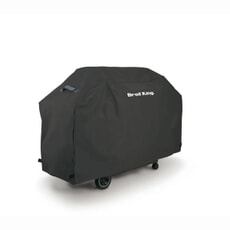 Name: Broil King Heavy Duty Cover - Imperial

Description: The Broil King Imperial XL Cover is a heavy duty cover crafted of durable woven polyester with a water resistant PVC lining tailored to fit the Broil King Imperial XL.

It has a mesh ven
SKU: 68490

Code: 68490

UPC: 060162684906

Our Price: (£) 116.99

Condition: New

Availability: In Stock

URL: https://www.bbqworld.co.uk/broil-king/broil-king-imperial-xl-cover.asp