Broil King Gathering Around The Grill

Product Code: 50909

Unfortunately this product is currently unavailable to purchase - we are not sure when we'll have it back in stock.
Sponsored Links
Product Information
Broil King's Gathering Around The Grill will help take the guesswork and stress out of entertaining by giving twenty one mouth watering menus.

Whether planning a casual get together or a more formal affair the recipes and menu ideas contained in the good looking and well illustrated book are sure to be a success.
Technical Specification


180 Fully illustrated pages
Hardcover

Dimensions

BBQ Dimensions
Height (cm) -
Width (cm) -
Depth (cm) -
Weight (kg) - 1

Box Dimensions
Height (cm) -
Width (cm) -
Length (cm) -

Cooking Area
Width (cm) -
Depth (cm) -
Reviews of the Broil King Gathering Around The Grill
Additional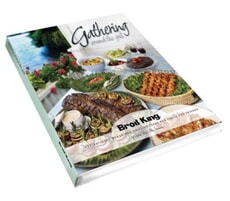 Name: Broil King Gathering Around The Grill

Description: Broil King's Gathering Around The Grill will help take the guesswork and stress out of entertaining by giving twenty one mouth watering menus.

Whether planning a casual get together or a
SKU: 50909

Code: 50909

UPC: 9780981173504

Our Price: (£) 31.95

Condition: New

Availability: In Stock

URL: https://www.bbqworld.co.uk/broil-king/broil-king-gathering-around-the-grill.asp