Broil King Cedar Grilling Planks - 19 cm Wide

Product Code: 63280

Price £11.69
RRP: £12.99 - Save 10%


In Stock : Yes - Currently in stock online - only 1 available!


Sponsored Links
Product Information
Cooking on Broil Kings cedar grilling planks brings out the real taste of your food for the best seafood grilling experience making a perfect addition for your cooking on your barbecue.

Simply soak the planks in water overnight then place a piece of fish or meat and then let the barbecue do it's work.
Technical Specification


19 cm x 38 cm x 1 cm – 2 planks per pack.
100% natural Canadian Red Cedar.

Dimensions

BBQ Dimensions
Height (cm) -
Width (cm) -
Depth (cm) -
Weight (kg) - 0.9

Box Dimensions
Height (cm) -
Width (cm) -
Length (cm) -

Cooking Area
Width (cm) -
Depth (cm) -
Reviews of the Broil King Cedar Grilling Planks - 19 cm Wide
Additional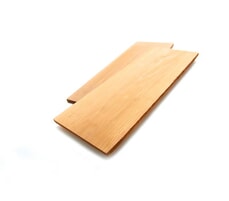 Name: Broil King Cedar Grilling Planks - 19 cm Wide

Description: Cooking on Broil Kings cedar grilling planks brings out the real taste of your food for the best seafood grilling experience making a perfect addition for your cooking on your barbecue.

S
SKU: 63280

Code: 63280

UPC: 060162632808

Our Price: (£) 11.69

Condition: New

Availability: In Stock

URL: https://www.bbqworld.co.uk/broil-king/broil-king-cedar-grilling-planks.asp