Broil King Cedar Grilling Planks - 19 cm Wide

Product Code: 63280

Unfortunately this product is currently unavailable to purchase - we are not sure when we'll have it back in stock.
Sponsored Links
Product Information
Cooking on Broil Kings cedar grilling planks brings out the real taste of your food for the best seafood grilling experience making a perfect addition for your cooking on your barbecue.

Simply soak the planks in water overnight then place a piece of fish or meat and then let the barbecue do it's work.
Technical Specification


19 cm x 38 cm x 1 cm – 2 planks per pack.
100% natural Canadian Red Cedar.

Dimensions

BBQ Dimensions
Height (cm) -
Width (cm) -
Depth (cm) -
Weight (kg) - 0.9

Box Dimensions
Height (cm) -
Width (cm) -
Length (cm) -

Cooking Area
Width (cm) -
Depth (cm) -
Reviews of the Broil King Cedar Grilling Planks - 19 cm Wide
Additional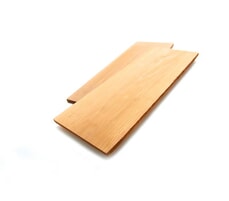 Name: Broil King Cedar Grilling Planks - 19 cm Wide

Description: Cooking on Broil Kings cedar grilling planks brings out the real taste of your food for the best seafood grilling experience making a perfect addition for your cooking on your barbecue.

S
SKU: 63280

Code: 63280

UPC: 060162632808

Our Price: (£) 12.99

Condition: New

Availability: Out Of Stock

URL: https://www.bbqworld.co.uk/broil-king/broil-king-cedar-grilling-planks.asp