Big Green Egg BBQ, Grills and Accessories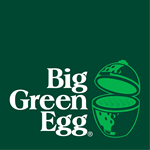 We will be no longer stocking Big Green Egg barbecues but take a look at the alternatives below. We have limited In Britain, we love the opportunity to get the barbecue out and start grilling our favourite meat, but it's an unfortunate fact that we have a very short barbecue season. Often, as soon as we get the bag of charcoal and the barbecue out, we have to run for cover and abandon all hope of an outdoor barbecue.

The kamado style charcoal grill offers the great taste and the joy of cooking using charcoal, but is ready to cook in just over ten minutes and, we think successfully, aims to change what we consider normal barbecuing. The ceramic design means that it maintains the desired temperature while a combination of sliding door and daisywheel vent enables total control over that temperature. What's more, it not only offers the standard barbecue griddle that we have all come to expect, but can also be turned into a pizza oven or a convection oven to prepare almost any food type. To combat the great British weather, the Big Green Egg can be lit and used in any weather conditions, even rain and snow.
Browse The Big Green Egg Barbecue Range
Big Green Egg Alternatives
About Big Green Egg
The Big Green Egg uses proprietary processes and patented technology to produce a kamado that is stronger, more durable and with better heat insulation than any other outdoor cooker. That's why Big Green Egg has been the market leader in outdoor cookers for over 40 years. Big Green Egg are delighted as an extra seal of approval to be relied upon by hundreds of award winning chefs in their professional kitchens too.

Ceramics

Having opened their doors in Atlanta 1974, Big Green Egg has become the industry leader in the production of ceramic kamado barbecues.
Sometimes imitated, but never bettered, the Big Green Egg uses proprietary processes and patented technology to produce ceramic that is stronger, more durable and proven with independent verification to have better heat insulation than any other outdoor cooker on the market.
The state of the art ceramics Big Green Egg have been developed by NASA for their heat -shields and are manufactured in Mexico, one of the few places in the world where the raw materials necessary are available in abundance. The premium ceramics offering unrivalled thermal properties are literally at the core of the Big Green Egg's excellent heat retention, fuel efficiency and unbelievably moist food. The materials in the EGG's ceramics have performed flawlessly in extreme conditions for decades. Don't settle for an imitation. If it doesn't say "Big Green Egg", it isn't.

Fast & Easy To Light

Unlike metal barbecues that take 45 minutes to reach cooking temperature the Big Green Egg is ready in a third of that time, just 12-15 minutes. Unbelievable but true!

Our chemical free Fire Starters burn at high temperature without the need for unhealthy chemical or petrol accelerants. Simply light and leave the lid open for 10 minutes. Five more minutes with the dome lid closed and you're ready to cook. The precise regulation of airflow and insulated ceramics mean the EGG is significantly more fuel-efficient than other barbecues. One load of charcoal will burn for up to 16 hours in the Large EGG, as opposed 45 minutes in other charcoal barbecues.

Charcoal - The Natural Choice

Big Green Egg painstakingly source our charcoal to ensure it is all carbonised hardwood and not made from treated wood offcuts with additives or petroleum byproducts- which can be found in other charcoal and briquettes on the market. You put effort into cooking your favourite meals so don't compromise when it comes to selecting the best fuel for your EGG!

Big Green Egg wood is FSC certified and environmentally sustainable.
At BBQWorld we love the innovation behind this kamado grill, and especially love the fact that it perfectly caters to the British crowd by offering year-round grilling opportunities. Buy from our website today to enjoy free delivery on all orders over £50, or come and see us at Dawson's Department Store where you can see first hand how effective this BBQ is.

Kamado Grilling

The kamado grill is based on an ancient Japanese design. It has a deep base and a solid lid, which means that you can grill with the lid open or you can close it and enjoy convection style cooking that you would normally enjoy from an oven.

The deep base means that you can add plenty of charcoal so that the heart will last for hours before you have to consider restocking your fuel source. Convection heating also means that you can eliminate the cold and hot spots that you would typically experience with an open barbecue. This style of barbecue also opens up your outdoor cooking world to the possibilities of preparing pizza and even bread , and it makes preparing items like baked potatoes even easier.

A closed lid style barbecue, like a kamado, means that you can smoke your food without having to add smokers or other pieces of kit too. This is especially useful with a charcoal style barbecue, because it means that you really can enjoy the authentic taste that charcoal barbecue lovers particularly crave.

The Big Green Egg takes the convection style kamado grill and extends its benefits even further, with patented technology that retains heat for longer, and a design that can incorporate stone oven extras.

Temperature Control

The Big Green Egg has patented air flow systems. The multi-variable dual-function metal top can be rotated to accurately control air flow, especially when combined with the precision flow draft door at the bottom of the barbecue. Open the vents to allow more air to flow, stoking the fire, and enabling the flames and heat to build. Once you've hit your desired temperature, reduce the air flow level and let your Egg maintain that temperature for several hours.

To make things even more convenient, the Big Green Egg has a lid temperature gauge that is accurate to within a few degrees. The company claims that this temperature gauge is more accurate than a lot of indoor kitchen ovens, making it an ideal accessory for the keen chef.

Easy To Light

The Big Green Egg is quite unique in the barbecue world because it uses lump charcoal. If you use the charcoal manufactured and supplied by Egg, it is made from cuts of natural oak and hickory. Lump charcoal burns longer and stronger than standard barbecue coal, and this, combined with the design of the barbecue, means that you can light the barbecue and it be ready to cook on in just 12 minutes.

Most charcoal barbecues require that you wait at least 30 minutes to an hour before you start cooking. You can also buy an electric starter for your Big Green Egg, which means that you will never have to taint the taste of your food with firelighters or lighter fluid again.

Easy To Clean

The cooking grid is made from professional grade stainless steel. This material is chosen not only because of its strength and durability, but also because it is very easy to clean. Once you've finished barbecuing, you should only need to give it a quick wipe down to prevent any dirt and debris from becoming solidified and difficult to remove.

The barbecue itself has been glazed so that it, too, is quick and easy to maintain. Wipe with a damp cloth to continue enjoying the great looks of the Big Green Egg. No need to use chemical cleaners because the residual heat inside the barbecue will keep the internal cooking areas clean and free of dirt.

Bases And Stands

The Big Green Egg is a professional, hardwearing, and incredibly high quality barbecue, but it is also heavy. The large models will require at least two people to move. This is great for a permanent addition to your garden, but it makes it difficult to move around when the barbecue season finishes, or simply to avoid or find the sunny spots.

Fortunately, at BBQWorld we also sell Big Green Egg stands and bases. Rest your barbecue on a wheeled stand and it becomes a breeze to move your kamado grill from one spot to another. Some base models also come with flip up tables which are ideal for storing food before and after preparation or for holding plates and cooking utensils. With the right base, you can turn your feature packed barbecue into an outdoor cooking area.

Charcoal And Woodchips

Big Green Egg is designed to work with lump charcoal, and we stock and supply the charcoal that Egg itself manufactures. This is made from oak and hickory; a combination that means your barbecue will burn evenly and for longer than with other types of coal, and it also gives your food a great, hickory smoked flavour. A single bag of charcoal will burn for up to 80 hours, so you don't need to buy too many.

Accessories

The Big Green Egg is all about cooking outdoors, rather than just barbecuing. As such, they have a selection of additional accessories and items that are designed to make the cooking experience even greater. Buy a cover to help protect your Egg during the off-season or at night. While the grill will withstand any weather condition, you can keep it looking its best.

Other accessories include vertical chicken roasters, drip pans, grill grippers, BBQ mitts, paella pans, roasting racks, and baking stones. Take a look at our collection of accessories to ensure you've got everything you need for the best possible outdoor cooking experience.

Buy The Big Green Egg From BBQWorld

The Big Green Egg is innovative and high quality. It combines the tradition of kamado grills, which have been used for thousands of years, with new and innovative designs that have been patented by the manufacturers, which means that you won't find them on other BBQ and grill models.

At BBQWorld we not only stock the Big Green Egg but we also have a large selection of charcoal and woodchips, grill accessories like pizza stones, and other accessories like covers and even meat claws. Enjoy competitive prices on some of the best items and access free home delivery to your UK address if you spend £50 or more on your order. Buy online, call us with any questions you have about the BBQs and accessories that we sell, or call in to Dawson's Department Store where one of our experienced and friendly team will answer any questions you have.