Beefeater Premium 5 Plus 1 Burner Hooded Trolley Cover

Product Code: 94416

Unfortunately this product is currently unavailable to purchase - we are not sure when we'll have it back in stock.
Sponsored Links
Product Information
The Beefeater Premium 6 Burner Cover is the way to protect any Beefeater 6 Burner Built cart mounted grill from the elements and air borne dirt when you are not grilling.

With the distinctive Beefeater logo it not only keeps your grill looking good, but looks good in it's own right.
Technical Specification


For Beefeater 6 Burner Cart Mounted Barbecue


Heavy duty polyester construction


Weather and tear resistant


Full length cover


Built in Velcro tie straps

Dimensions

BBQ Dimensions
Height (cm) -
Width (cm) -
Depth (cm) -
Weight (kg) - 4

Box Dimensions
Height (cm) -
Width (cm) -
Length (cm) -

Cooking Area
Width (cm) -
Depth (cm) -
Reviews of the Beefeater Premium 5 Plus 1 Burner Hooded Trolley Cover
Additional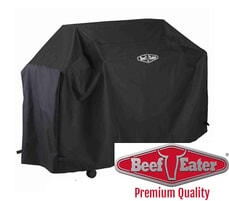 Name: Beefeater Premium 5 Plus 1 Burner Hooded Trolley Cover

Description: The Beefeater Premium 6 Burner Cover is the way to protect any Beefeater 6 Burner Built cart mounted grill from the elements and air borne dirt when you are not grilling.

With the distinc
SKU: 94416

Code: 94416

UPC: 9316561046755

Our Price: (£) 97.5

Condition: New

Availability: Out Of Stock

URL: https://www.bbqworld.co.uk/beefeater/beefeater-premium-5-plus-1-burner-hooded-cover.asp