Beefeater Meat Thermometer

Product Code: 94980

Unfortunately this product is currently unavailable to purchase - we are not sure when we'll have it back in stock.
Sponsored Links
Product Information
The BeefMates ThermoFork makes it easy to achieve the correct level of doneness, eveing in thin cuts of meat. Use for fish, beef, veal, pork or poultry. The ThermoFork is calibrated to determine the correct level of doneness by measuring the internal temperature of the food. The information is sent electronically to the display which gives a correct reading.
Dimensions

BBQ Dimensions
Height (cm) -
Width (cm) -
Depth (cm) -
Weight (kg) - 0.6

Box Dimensions
Height (cm) -
Width (cm) -
Length (cm) -

Cooking Area
Width (cm) -
Depth (cm) -
Reviews of the Beefeater Meat Thermometer
Additional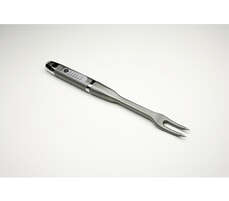 Name: Beefeater Meat Thermometer

Description: The BeefMates ThermoFork makes it easy to achieve the correct level of doneness, eveing in thin cuts of meat. Use for fish, beef, veal, pork or poultry. The ThermoFork is calibrated to determine the c

SKU: 94980

Code: 94980

UPC: 665528003980

URL: https://www.bbqworld.co.uk/beefeater/beefeater-meat-thermometer.asp

Our Price: (£) 10.99

Condition: New

Availability: In Stock