Beefeater Meat Probe Thermometer

Product Code: 93760

Unfortunately this product is currently unavailable to purchase - we are not sure when we'll have it back in stock.
Sponsored Links
Product Information
The Beefeater Meat Probe Thermometer takes the guesswork out of cooking roasts and poultry and should become an essential part of your BBQ tool kit.

This invaluable, washable all purpose meat thermometer is manufactured in durable stainless steel, with an easy to read, extra large face for both simplicity and durability.
Technical Specification


Stainless steel


East read large face


Long probe


Suitable for use in barbecue or oven


Washable

Dimensions

BBQ Dimensions
Height (cm) -
Width (cm) -
Depth (cm) -
Weight (kg) - 0.65

Box Dimensions
Height (cm) -
Width (cm) -
Length (cm) -

Cooking Area
Width (cm) -
Depth (cm) -
Reviews of the Beefeater Meat Probe Thermometer
Additional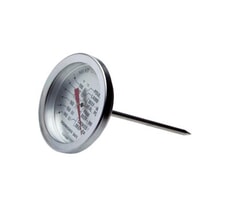 Name: Beefeater Meat Probe Thermometer

Description: The Beefeater Meat Probe Thermometer takes the guesswork out of cooking roasts and poultry and should become an essential part of your BBQ tool kit.

This invaluable, washable all purpose

SKU: 93760

Code: 93760

UPC: 665528001993

URL: https://www.bbqworld.co.uk/beefeater/beefeater-meat-probe-thermometer.asp

Our Price: (£) 12.99

Condition: New

Availability: