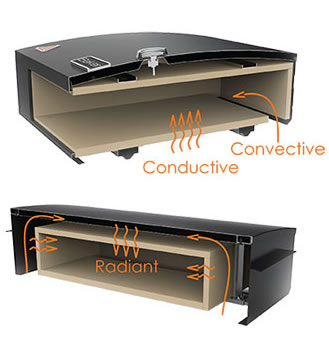 Transforms 450º F up to 750º F*
The Pizza Oven Box's patent pending design raises the temperature of outdoor grills to that of a real wood burning pizza oven. Unmatched baking and cooking performance is achieved by combining a stone baking chamber with an enameled steel housing, creating a unique air flow system which enhances the convective, conductive and radiant heat in and around the cooking chamber.

Outer Dimensions: 22.8" x 16.3" x 6.3"
Baking Chamber Dimensions: 14.9" x 13.8" x 3"

*Performance may vary depending upon several factors, including, but not limited to, the type of grill you use, the features on your grill, weather conditions, etc.