Weber BBQ, Grills and Accessories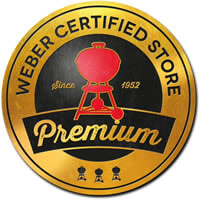 BBQ World stocks the whole range of premium Weber BBQ's. Whether you are looking for a state of the art Gas Weber BBQ or a more traditional Charcoal BBQ, we will be able to supply your needs. All Weber BBQ's are held in stock in Clitheroe, Lancashire, meaning your chosen barbecue will always be in stock and ready for next day delivery.

Drop in to our Clitheroe or Skipton stores to try out a Weber BBQ for size - we have years of experience in selling these premium products, and can answer any questions you may have. If you can't visit us, just ring with any questions you have, and we can chat through the options with you so that you can order online or over the phone. We are confident that we offer the best prices on Weber barbecues, but if you find one elsewhere any cheaper, we will do our best to price match. Don't forget, every Weber BBQ listed on our site is inclusive of VAT. What you see is what you pay. And with orders over £50, next day delivery is absolutely free. Look out for our BBQ sale items to get your collection started.



About Weber BBQ's


There are plenty of reasons you should get yourself a Weber BBQ, including:

An updated range - Our latest addition is the Gourmet grill System stainless steel grate, which is compatible with the Spirit Premium S-320, Genesis S-330 and Summit Series. This extra part helps to enhance your grill's versatility and can be used with the cast iron wok, sear grate, griddle, pizza stone and poultry roaster accessories.


Functional design - The most striking feature of the 2014 Weber gas grills is a redesign of the whole Q family. Each item features a stylish new look and a host of optional, Q-specific accessories, including the long awaited Midi Q warming rack.


Quality assurance - Weber is the number one branded BBQ in the U.K. and offers long-term warranties and extensive guarantees on all barbecues. This means that you can relax and purchase your favourite model with confidence. The brand has been around for more than 60 years and is the world leader in premier-quality grills.
Now you can conjure up delicious meals every time you whip out your Weber. Browse our range of products and purchase your dream grill today.
Weber is the number one branded BBQ in the U.K. All Weber barbecues are supplied with long term warranties and extensive guarantees, which means that you can relax and make your purchase with confidence.

Weber has been manufacturing for over 60 years and is the world leader in premier quality barbecues.

The innovative Weber barbecue products are of the highest quality to ensure your barbecue withstands whatever the British weather may expose it to.

This includes all the barbecues Weber manufactures - from the largest Weber gas grills down to the smallest portable charcoal, gas or even electric barbecues.

Weber's vast array of BBQ accessories will allow you to conjure up magnificent BBQ feasts, including barbecuing whole chickens, baking cakes, pizzas and breads; as well as the everyday barbecue burgers, sausages and steaks.
New Weber Spirit Gas Barbecues For 2016
The Weber Spirit range of gas barbecues represent the entry level of their fully grown gas barbecue family with fantastic build quality and ingenious design features to be found right across the Spirit family. All the members of the Spirit share the same character traits in that their assembly is straightforward and hassle free combined with being easy to use and live with when they are built.
For 2016 Weber have grown the Spirit family even larger with the addition of four new models, two in the Spirit Classic Range and two more in the Spirit Premium range giving even more chances to find a barbecue that has a specification that will meet most peoples needs and requirements for a workably sized, functional grill that doesn't want to take over a patio or garden.
The new Weber Spirit Classic E220 Gas BBQ and the Weber Spirit Classic E320 Gas BBQ are developments of the 2 and 3 burner models in the Spirit Classic range adding the option of having a side burner with protective lid built into one of the two side tables which gives scope for preparing sauces or boiling vegetables on the barbecue, while the flush fitted protective lid means that the side burner surface can be used for preparation or storage when not in use.

Like all the members of the Spirit Classic family the new Weber Spirit Classic E220 Gas BBQ and the Weber Spirit Classic E320 Gas BBQ are simple to use, build, clean, don't take up much space and have a great performance. Whether these are a first gas barbecue or just a fuss free grilling machine then they will not disappoint.

The two additions to the Spirit Premium branch of the family, the new Weber Spirit Premium E330 GBS Black and Weber Spirit Premium S330 GBS Stainless Steel, have been developed from the eye catching and versatile Weber Spirit Premium S320 GBS Stainless Steel adding an additional Sear Station burner to the main cookbox to give an extra high heat that is perfect for searing steaks getting even more versatility from a grill of this size with it's wide range of grilling, roasting and baking options given by it's Gourmet Barbecue System cooking grate

The Weber Spirit Premium E330 GBS Black packs all those features into a black barbecue with a black porcelain-enamelled lid, black painted door backed up with porcelain enamelled flavorizer bars and porcelain-enamelled cast iron GBS cooking grates while the Weber Spirit Premium S330 GBS Stainless Steel has taken the S320 specification as it is adding the Sear Station burner to it.

Simple to use, build, clean, with a great range of grilling possibilities and a great grilling performance - whether this is a first gas barbecue or you need a hassle free grilling machine to push the boundaries then the Weber Spirit Premium branch of the Weber Spirit family will not only keep you happy, but will look fantastic while it is doing so.

The newly expanded Weber Spirit Classic family now gives an even greater chance of finding a barbecue which has a specification that precisely gives what is wanted in a neat, easy to live with package the only difficulty being deciding which one of the Weber Spirit family to invite home.
Read more blog stories here
Latest Customer Weber BBQ Reviews
Weber Lighter Cubes - White






Great

on 18/8/16
By :

David Sturdy




I have tried newspaper in my starter chimney and whilsts it works usually i get burnt newspaper flying all over the placeSo I tried a couple of cheap fire lighters which took ages to light so eventually found these and they are excellent very easy to light and zero effect on flavour they get the coals going very effectively. Highly recommended
Weber Spirit Classic E210 And Cover






You wont be disappointed

on 13/8/16
By :

Michael Colsell




Wonderful BBQ Deserves Which magazine accolade. ordered mid-day August 11. Arrived just after 10 August 12. It took me 3 hours to put together by myself. You do not need two people and you do not need spanners/sockets referred to in assembly guide. Only one piece not correctly hole drilled but swapping sides worked.Beware instruction 13 - needs to be done in conjunction with 12. Otherwise perfect guide. Very pleased with purchase and griddle
Weber Smokey Mountain Cooker 37cm Black BBQ






Brilliant Smoker

on 17/7/16
By :

Les




Great service from Dawsons delivered exactly as they said.I use a BBQ throughout the year great for a Sunday joint so I thought Id try a smoker.Smoker is in my opinion better meat is much tastier and tender although it does take longer than a BBQ. The Weber is easy to use and temperature is very easy to maintain. Buy with confidence but be patient.
Weber Original Kettle 57cm Chimney and Cover






Outstanding

on 12/7/16
By :

Matt




Fantasic service great product I couldnt be happier. The product seems sturdy and well made with a good range of features you would expect from a brand like Weber. Delivery 1 working day after the order was placed from a good courier that gave timed deliveries and updates on progress. Id thoroughly reccomend any to use bbqworld / dawsons.
Weber Spirit Classic E210 Gas BBQ






First Weber Gas BBQ

on 17/6/16
By :

David Jones




So far so good. Build took around 2 hours but the instructions and quality of materials made this very easy. Had a couple of BBQs now on the E210 and very impressed so far. Easy to use great controls still need to get used to BBQing with the hood down but that is just down to lack of experience myside. Great delivery and service from BBQ World recommend both them and the Weber E210.
Weber Original Kettle 57cm Black Charcoal BBQ






Weber 57cm Charcoal BBq

on 11/6/16
By :

Keith Bremner




Many thanks to all at Dawsons for one of the cheapest prices online for my new BBq. Delivered on the selected day as promised Saturday with the courier driver. I will look forward to many years of enjoyment with my new Weber BBq. Once again many thanks
Weber Spirit Classic E310 Gas BBQ






5 stars

on 27/5/16
By :

Bob




took some time deciding on this BBQ we have an older one in our place in Spain and whilst Weber is expensive the quality speaks for itself. We went to a local garden centre and looked at many but most fell short of Webers quality. So we went for the E310 it arrived next day on a pallet via Palletways. I followed some good videos on Youtube about unpacking and within 2 hours everything was put together and I can be quite slow at these things. Once together it really looks the part a great mid range BBQ just need to get out and get some gas now -Great service from BBQ World.